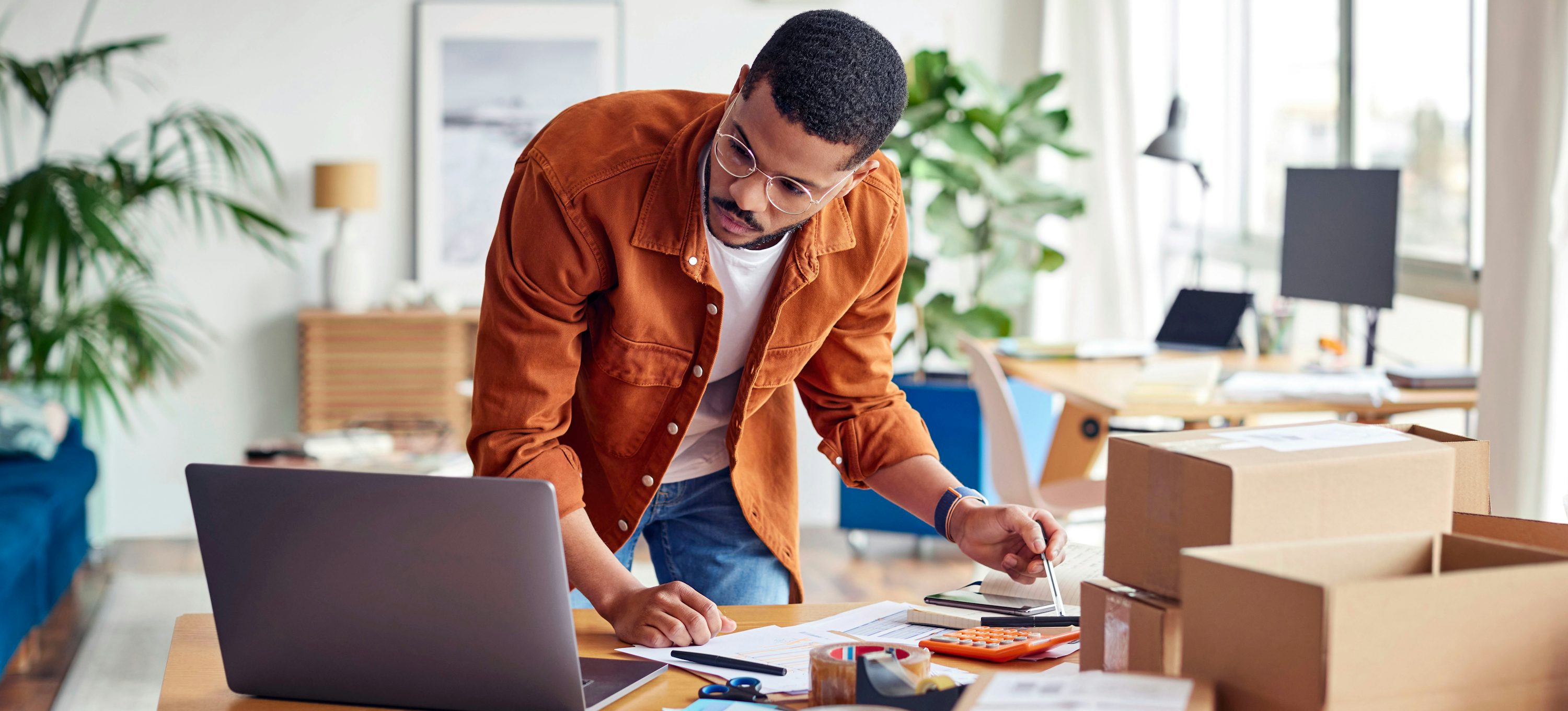 Starting your own e-commerce business is an exciting venture, especially if you've dreamed about the freedom of being your own boss. If you are crafty or have a knack for selling, then the entrepreneurial route could be a great choice for you.
Lifting a business off the ground is hard work. It requires business acumen, creativity, and discipline to take the necessary steps to put your idea out there. But it can be a very worthwhile and rewarding journey. Global e-commerce sales reached nearly $5.7 trillion in 2022, and, according to the US Census Bureau, e-commerce accounted for 14.8 percent of total sales by September 2022. There is huge potential to profit from e-commerce.
In this article, you'll find a step-by-step guide to starting your online business, learn about the possible costs you may encounter along the way, and explore tips for setting it up for success. At the end, you'll find suggested cost-effective courses that can help you gain the skills and insight you'll need to launch your next business venture.
How to start an e-commerce business
E-commerce is on the rise, so you'll need to consider how to stand out because everyone can use digital marketing for their business. Despite the competition, there is a bright future ahead for e-commerce entrepreneurs. Here's how to get started.
Step 1: Research e-commerce models and decide what to sell.
The e-commerce space today is vast, with plenty of competition, so it is important to consider what your e-commerce business model will be. There are four basic types:
Business-to-customer (B2C): A common business model, in which a business sells to consumers, anything from spices to shoes. B2C brands can sell different brands under one umbrella, such as Amazon, Walmart, and Alibaba.

Business-to-business (B2B): In B2B models, businesses sell products or services to other businesses. Orders tend to be recurring purchases. Examples include Amazon Business, Alibaba, and Rakuten.

Customer-to-customer (C2C): C2C models tend to be online marketplaces that connect consumers to exchange and sell goods and services. Online C2C businesses include Craigslist, Etsy, and eBay.

Customer-to-business (C2B): With C2B, individuals sell their goods and services to companies. A good example is Upwork, which enables businesses to hire freelancers.
At the same time that you're considering your business model, you'll also want to explore the delivery method you'll use to distribute your goods or services. Generally, you'll use one of the following delivery methods:
Direct-to-consumer (D2C): Sell your own products directly to customers, without the help of wholesalers or retailers.

Dropshipping: Set up a storefront (website) so customers can pay by credit card or PayPal, sourcing from a supplier that manages inventory and packaging. Dropship businesses are quick and inexpensive to start.

Wholesaling: Purchase products in bulk at a discounted rate from a retailer to sell on your website.

White label: Put your own name and brand on a generic product that you purchase from a distributor.

Private label: Hire a manufacturer to create a product to be sold exclusively (by you).

Subscription: Deliver products such as pet food or fresh vegetable boxes on a monthly or weekly basis to loyal customers who prioritize convenience.
To find your niche, you'll want to consider what type of product you want to sell, to whom, and how you will distribute it. Whether you sell your own hand-crafted products or source generic ones, you make all the decisions when you start a business — and you get to decide what works best.
Step 2: Write a business plan.
After you establish the foundation of your business, you're ready to draft a business plan. This written document details your objectives and roadmap for finance, operations, and marketing. You can use it to get organized and be used to attract potential investors.
Do some research to figure out the current competitors and market landscape for your product or service. Determine your target market and how you might sell to them. Plan the logistics, including when, where, and how you will proceed in the coming months.
Step 3: Choose a business name and start building your brand.
Next, your business needs a name and brand identity. For those starting white label e-commerce businesses, the brand is especially crucial to the success of your business.
Choosing a business name can be fun, but it requires a bit of strategic thinking. In addition to a unique yet uncomplicated name that clearly explains what your product is, you'll also want to check if the web domain, social media handles, and legal name are available. Do your research to make sure it translates well across cultures, especially if you aim to go global.
In building your brand, you'll need to design a logo that will be placed on all packaging, website design, and marketing materials. Eventually, you may want to hire a designer who can translate your brand's ethos into beautiful web visuals.
Step 4: Register your business.
Before you begin selling, you'll need to register your business by choosing a legal structure, applying for an employer identification number (EIN), and obtaining other permits and licenses specific to your chosen business model.
Once you've decided on a business name, consult your local secretary of state's website and U.S. Patent and Trademark Office to make sure your business name is available. You will need to choose your legal structure, a business entity type that will determine the legal and financial guidelines of your online business—typically, you can select from a general partnership, LLC, corporation, or sole proprietorship. Consider consulting a legal professional to ensure the right choice for your business.
Next, you can apply for an EIN. Registering for this business tax ID can be done online for free from the IRS website. This nine-digit number allows you to separate your business finances from your personal finances.
After receiving your EIN, check what other business licenses and permits you need to operate in your city and state. If your business is a general partnership or sole proprietorship, you won't need to register with your state unless you file a DBA ("doing business as"). Many e-commerce businesses are home-based, so they don't need as many licenses as brick-and-mortar stores, but you might need a home occupation permit that states your business doesn't contribute to traffic or noise. Your business registration requirements will differ depending on your state, industry, and business type.
Step 5: Create your e-commerce business website.
With the paperwork signed and your business officially registered, the next step is to create an e-commerce website. The website is the "storefront" for your business for customers to arrive, browse, and place items in their shopping cart. Your business website and its functionality are critical to your success.
To start, you'll need a domain name that matches your business name. Then, you'll select an e-commerce platform that suits your bandwidth for creating and maintaining the online store. The two most common types are all-inclusive software (like Shopify) and open-source platforms (like Magento), on which you will conduct business operations such as managing inventory, shipping orders, and more.
Here are just a few e-commerce platforms to choose from:
Shopify: This popular e-commerce platform is all-inclusive and user-friendly, with plenty of customization options. With this hosted, software-as-a-service (SaaS) platform, you can choose from several subscription options depending on your business needs.

Squarespace: Known as a platform for building websites with modern templates, Squarespace also offers e-commerce capabilities. It is user-friendly but does not offer as many customizable e-commerce features as Shopify.

WooCommerce: WooCommerce is an open-source plug-in that you can add on to start selling on your WordPress site. It is free to download and offers a wide range of e-commerce tools, best for entrepreneurs with prior technical experience.

Magento: If you're tech-savvy, you might want to use Magento, an open-source platform that allows you (or a hired developer) to customize every element of your online store.
After you've selected an e-commerce platform, you can move forward with building, customizing, and launching your online store. You'll decide on the template design, create a wireframe, add your product inventory, and write out descriptions to introduce your business.
Step 6: Source and develop your products or services.
Once you've set up a prototype of your website, you can begin to add your product names, descriptions, and photos. You'll also need to obtain your products, whether that means you go into production to develop them or source them from a wholesaler.
If you are a craftsperson, you'll want to produce enough inventory to last the first few months. That might mean creating one of each color and size of a clothing line, or twenty of each ceramic pot. This number will vary depending on your labor bandwidth and your marketing strategy, like how much traffic you're driving to your website's launch.
Then, you'll need to arrange logistics such as branded packaging, warehousing, inventory management, and shipping.
Step 7: Launch and market your business.
Congrats! Once you have successfully launched the business, you can begin monitoring your metrics and key performance indicators (KPIs) as your business grows. Continue to experiment with different types of digital marketing to drive traffic to your brand.
Amid the inventory management, logistics, and marketing, you'll want to ensure that your shipping and fulfillment go smoothly for every customer. It is wise to prepare contingency plans in case anything goes wrong.
How much does it cost to start an e-commerce business?
Starting up your own e-commerce business is an investment that can reap generous profits, especially if a large consumer base connects with your brand. It also requires time: it can take up to two years to get an online business off the ground and start earning a profit.
Here are some upfront costs to consider:
Licenses and permits: Your legal documentation, such as licenses and permits, will depend on your business entity type, your state/location, and the products you sell. Fees can vary from state to state, from $50 to hundreds of dollars.

E-commerce platform, domain name, and hosting: Software such as Shopify will set you back $29 a month for just basics and $79 for a regular plan. Open-source platforms are free to download, but you'll need to consider hosting and developer fees. Some platforms include a domain name and hosting, while others must be purchased separately—a domain can cost as little as $1 a year, while hosting can range from a few dollars to $700 per month.

Product inventory: Inventory might be your biggest and most strategic expense, since you'll want to have enough to sell but don't want to waste money on items that won't sell. You may also need warehouse space and equipment.

Shipping: Shipping costs will vary depending on your products, sales, shipping services, speeds, and methods, and whether it is an add-on to your e-commerce platform. You may choose to outsource the entire shipping process if you want to focus on the products and other business operations.

Marketing: When you're starting out, you may want to invest more in marketing and advertising. Deloitte's 2022 CMO Survey reports an average of 13.8% of overall budgets going toward marketing activities. However, these days, some new e-commerce businesses spend up to 30 percent on customer acquisition. Using free resources and experimenting at first is recommended.

Employees: Depending on how big your company is and how fast it grows, you may be running the show for the first few months or even years. Some experience rapid growth and need to hire employees shortly after launching the business, while others remain solopreneurs.
Generally, there are fewer costs associated with e-commerce than brick and mortar. With rent prices and inflation escalating, and a behavioral shift in the way consumers shop, e-commerce might just deliver a higher return on investment (ROI). Going online has many attractive benefits and a bright future for anyone interested in starting a business.
The initial start-up can cost up to tens of thousands of dollars. New business owners can choose to self-fund, rely on support from friends and family, or take on loans.
Tips for starting an e-commerce business
The journey to creating a successful e-commerce business requires motivation, strategy, passion, and a stroke of luck. Starting a business can feel similar to the birth of a child—hard work, but extraordinarily rewarding. Here are some tips when you're just starting out:
1. Start small
You don't have to invest in hundreds of products at first. If you're a craftsperson, create an Instagram account and simple branding to gauge interest. If you're sourcing products, give yourself a timeline to procure items, create a simple website, and soft-launch with targeted Google or Facebook ads. Then, build your business from there.
2. Keep up with trends
Sustainability is important to consider, as it is one of the biggest trends in e-commerce in 2023, along with delivery services, understanding cryptocurrency, and D2C (direct-to-consumer) sales. For example, it is probably a better idea to start a subscription service for organic veggies or vegan meals, rather than a fast-fashion business.
3. Experiment with marketing
People won't know about your business unless you promote it. Thankfully, there are many ways to conduct A/B testing on platforms like Google Ads with fewer dollars before launching a major campaign.
4. Take advantage of partnerships and multi-channel strategies
Even though D2C sales are trending, your brand awareness and sales can benefit from featuring your products on channels such as large online retailers like Amazon and Etsy. Social media partnerships, including influencer and affiliate marketing, and public relations (features in select publications) can also help you get noticed and gain traction.
5. Invest in multichannel sales strategy
To maximize your e-commerce business's reach and potential, it's essential to invest in multichannel selling.
While having a well-optimized website is crucial, expanding your presence on other platforms can significantly boost your sales and visibility.
Consider selling your products on established online marketplaces such as Amazon, eBay, or Etsy. These platforms already have a large customer base, allowing you to tap into a wider audience.
Additionally, leverage social media platforms like Facebook, Instagram, and Pinterest to showcase your products and engage with potential customers.
Each channel provides unique opportunities to connect with different demographics, so it's important to tailor your approach accordingly.
Consider signing up for pop up events and local markets to showcase your products in person, you may or may not make bank from these events, most importantly you are able to get your product out there and speak to customers directly.
Managing multiple channels may require more effort, but it can lead to increased sales and brand exposure.
In conclusion, starting an e-commerce business requires careful planning and implementation. By starting simple, focusing on exceptional customer service, and investing in multichannel selling, you can lay a solid foundation for success.
Remember, building a successful e-commerce business takes time and dedication, so stay committed to continuous improvement and adapt to changing market trends.
Find out how Clicktree can help you to cruise through the above.